Bravada

The Oldsmobile Bravada was offered starting in 1991. It was an upscale offering that was based on the 4-door Chevy S10 Blazer and GMC S15 Jimmy. The engine offering for the early Bravadas, all the way to 2001, was the venerable 4.3L Chevy V6 which at its peak, had 200 horsepower. Full time all wheel drive was standard, and was the only drive-configuration available. This setup was marketed as "Smart Trak".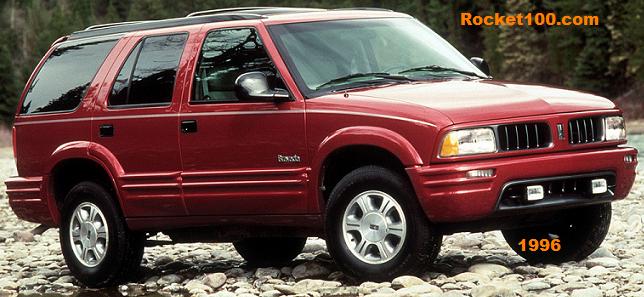 The Bravada was bypassed for the 1995 model year, with a new generation bowing for the 1996 MY. This new body style was much more aerodynamic and rounded than the previous boxy generation. 1997 Bravadas gained 4 wheel disc brakes with antilock.
The 1998 models received improved front lighting and grillework. Also gained were electronics supplemeting the Smart Trak system, allowing two wheel drive to be active most of the time, for improved fuel mileage.
The 2002 Bravadas hit the street even before their Chevy Trailblazer brethren. They were the earliest GMT360 trucks produced. This was a larger and more refined vehicle than the one it replaced. Also was the first GM since the 70s to have an inline 6 engine. This powerplant displaced 4.2 liters and delivered 270 horsepower. Unlike the Chevy and GMC versions, the Bravada was offered only in 5 passenger configuration. The 2002 Bravada was the official pacecar for the '01 Indy 500. The last of the breed were known as Final 500 editions. These featured special paint, commemorative emblems, special wheels, and interior embroidery. The Bravadas were one of three models to take Oldsmobile to the end of its timeline.