Dynamic 88

Ah yes, here it is again— Yet another new name for the low end of the 88 series. The year was 1958 and it replaced the Golden Rocket 88. This time around were quad headlamps and a pudgier appearance, much like most cars of '58.
The Dynamic 88 had more body styles than any previous entry level 88 model. These were coupe, sedan, convertible, Holiday hardtop coupe, Holiday hardtop sedan, Fiesta station wagon, and Holiday hardtop Fiesta station wagon. 'Holiday' at Olds meant no door posts, while 'Fiesta' translated to station wagon. Put these two together and you have a mouthful, as represented in the last body style listed.
Under the hood, a 371 CID 2bbl sporting 265hp was to be found as standard equipment. Optional were a 371 CID 4bbl V8 making 305hp, or the 371 CID 3x2bbl V8 making 312hp.

The 'Batmobile' look was inherited for 1959, like most other cars this year. The 3x2bbl V8 option was dropped for '59, leaving the 371 2bbl & 371 4bbl. Noteworthy as of 1959, was that all 4-door sedans picked up 'Celebrity' nomenclature to describe the layout.
The 4bbl V8 option was dropped for 1960, leaving just the 371 2bbl, which got neutered, down to 240hp, in more bad news. The outward appearance was restyled to something more subdued this year, though you could still see some '59 elements.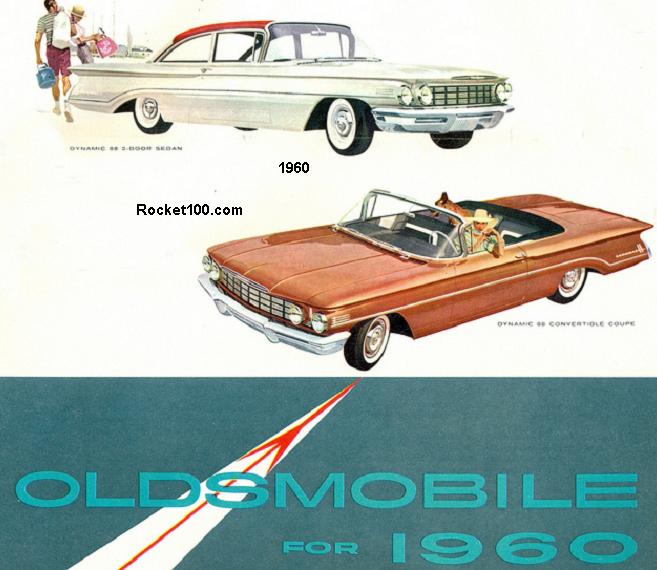 Yet another new appearance change was done for 1961, the 'bubbletop' year. Also part of the deal was the 'ducktail' look out back. The standard engine was now a 394 CID 2bbl V8 making 250hp. Optional was a 394 CID High Compression 2x4bbl V8 making 325hp.

Standard power for '62 was a 394 CID High Compression 2bbl V8 making 280hp. A lower compression 394 2bbl V8 was added as a cost-saver option and it made 260hp. The 394 CID High Compression 4bbl V8 was a little publicized option at this point, but if equipped, it made 330hp this year. The ducktail styling point went away this year, but the bubbletop roof remained. Also, this year the post coupe was dropped from the order sheet.
Dynamic 88s of 1963 lost the bubbletop roof, plus received minor lighting and brightwork tweaks. One engine was offered which was a 394 CID 2bbl making 280hp.

The '64s shared a close look with the '63s. The 394 2bbl was carried over this year. However there was a 394 CID 4bbl V8 making 330hp on the option list. A no-charge option in form of a standard compression 394 2bbl was also offered which made 260hp.

Starting in 1965, the station wagon was no longer offered. This year was also considered a new generation for fullsize GMs. Standard power was this year provided by a 425 CID High Compression 2bbl V8 making 310hp. Once again, a lower power engine was a no-cost option, which was a standard compression 425 2bbl V8 making 300hp. The top engine choice was a 425 4bbl V8 making 365hp. This year a 4-speed manual shifted by a Hurst shifter was available too.
The cars of 1966 were carried over with only minor trim changes and all the same engines. It was also the last call for the Dynamic 88. Replacing it for '67 was the Delmont 88.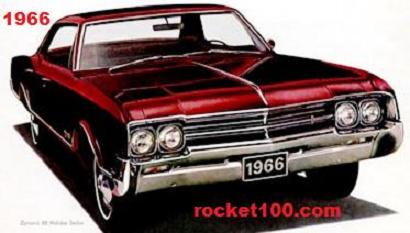 The Dynamic 88 is one of those sleepers you hear stories about. The potential exists at at both the drag strip and a collector car auction. The engine choices were promising each and every year. These need to be snapped up by the intelligent enthusiast before they all disappear.