Cutlass

The Cutlass nameplate first appeared in 1961 as a trim level of the F85.

The midsizers went to a new platform in 1964. All the way through 1965, the Cutlass was a trim level of the F85 line. A station wagon variant was added for 1967 as a more basic alternative to the Vista Cruiser.

The Cutlass received a redesign for 1968. The coupe and wagon variants were taken off the order sheet. There was a grille and lighting update for 1969. After many years of just 4-doors being offered, a 2-door hardtop coupe was once again offered in the base Cutlass line for 1971. This generation lasted until 1972.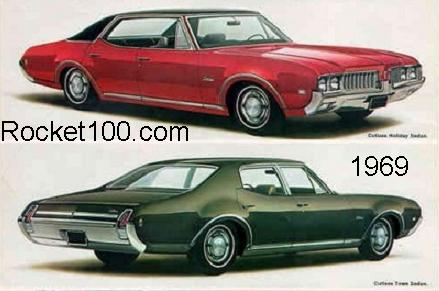 The new colonnade body style appeared for 1973. This generation lasted through 1975.

There were no standard Cutlasses made from 1976 through 1979, as they were all Supremes, Calais, Salons or S models. See those sections for more information.
The next Cutlass was offered from 1980 through 1981.

There once again were no basic Cutlasses after 1981 for quite a few years. For 1982 though 1996, see the Cutlass Supreme, Cutlass Calais and Cutlass Ciera sections.
Officially replacing the Cutlass Ciera, the Cutlass name reappeared for model year 1997 on the N-body platform. This platform was the same as used in the Cutlass Calais of years before as well as the current year Olds Alero. This Cutlass was powered exclusively by the 3.1L Chevrolet V6. The final year for this car was 1999 as GM started to wind down the Oldsmobile marque.