Jetstar 88
This model came out as an even cheaper alternative to the low end 88 model which happened to be the Dynamic 88 at the time. The Jetstar 88 was the loss leader and it arrived for 1964. It was described in the 1964 Olds brochure as "Brand new full-size 88 series with a brand new lower price!".
The wheelbase was at 123 inches and there were four body styles ffered. These were Celebrity post sedan, Holiday hardtop sedan, Holiday hardtop coupe, and a convertible.
Equipment was generally closer to the bare minimum in the Jetstar 88. For example, its drum brakes were 9.5 inches, whereas in the Dynamic 88, they were a full 11 inches. They still got the job done, but this obviously took away braking performance when compared to the others. As for engines, two were offered the first year. The base unit was a 330 CID 2bbl V8 making 225hp. Optional was a 330 CID 4bbl V8 making 262hp.

The car entered a new styling generation for 1965, but still sat on the same wheelbase dimension with the same body choices. Engines were improved as far as power. Base was now a 330 CID High Compression 2bbl V8 making 260hp. As a no cost option, a 330 CID 2bbl V8 with standard compression offered 250hp. The top choice 330 CID 4bbl now made 315hp.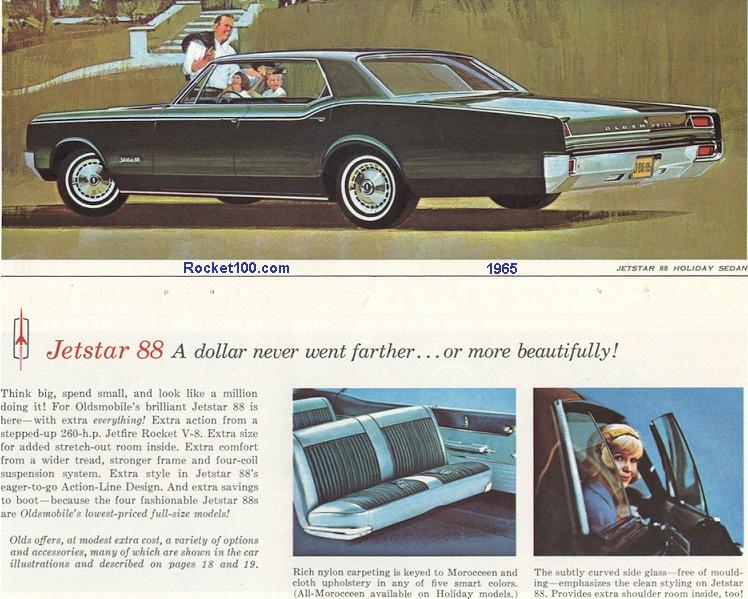 Cars of 1966 saw minor appearance changes, and kept the same engines, but the 330 4bbl gained 5hp, up to 320 now. It was also the final year for the Jetstar 88. The image of a 'loss leader' model was not in Oldsmobile's marketing plan anymore, as the brand started pushing upmarket around this time.