Delmont 88
This fullsizer replaced the Dynamic 88 for 1967. It sat on a 123 inch wheelbase with available body styles being the Town post sedan, Holiday hardtop coupe, Holiday hardtop sedan, and a convertible. Curb weight averaged 4200 lbs.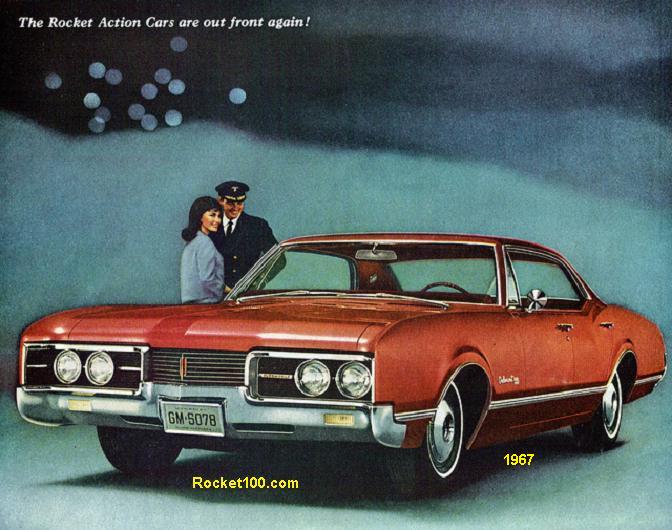 The base engine was relatively stout, which was a 330 CID High Compression 2bbl V8 making 260hp/355tq. Many options were on the list if you wanted more power, or maybe less. As for less, a standard compression 330 2bbl was offered at no cost, and it made 250hp/335tq.
The higher power engines were very stout. these were a 330 CID 4bbl V8 with 320hp/360tq, a 425 CID 2bbl V8 with 300hp/430tq, a 425 CID High Compression 2bbl V8 with 350hp/450tq, a 425 CID 4bbl V8 making 365hp/470tq, and finally, a 425 CID 4bbl 'Starfire' V8 making 375hp/470tq.
In 1968, the same body styles were carried over, but the Delmont 88 got a new split-appearance front end. Integrated was a solid mid-nose section instead of the full grille. Most Oldsmobiles later on shared this look, made famous by this car.

All engines from the previous year were dropped and replaced by the following. Base was a 350 CID 2bbl V8 making 250hp. Next up was a 350 4bbl making 310hp. Then was the 455 CID 2bbl V8 making 310hp also, though with more torque. A step up from here was the 455 CID High Compression 2bbl V8 making 320hp. The last link of the engine offerings was a 455 CID 4bbl V8 making 365hp.
This was also the final year for the Delmont 88 nameplate, but it wasn't officially replaced. Oldsmobile was moving upmarket. The 88 Royale was a new offering for 1969, and was slotted above the Delta 88. This allowed the Delta 88 to become the 'starter' Oldsmobile—If you wanted a fullsize, that is.