Custom Cruiser

The Custom Cruiser was introduced for the 1971 model year, and was underpinned by the Ninety Eight's C-body platform. The wheelbase was a monstrous 127 inches. GM's entire fullsize lineup was redesigned for 1971, and all big wagons featured a new clam-shell tailgate design. The 'Cruiser' nomenclature was Oldsmobile's designation for station wagon. The first Custom Cruisers were a true 9-passenger automobile, thanks to the rear facing third row of seating. The 455 V8 was the most common engine its entire run.

The car got a new front bumper and nose for the 1973. For 1974 the tail lamps and rear bumper were changed out. These changes happened in order to meet the updated federal bumper strength laws. The Pontiac 400 V8 was a rare engine offering for 1975, presumably GM's way of dumping excess stock of that engine.

Headlamps were updated to rectangular units for 1976 (headlamps on the Ninety Eight were updated in '75). This was also the final year for the generation.

Along with the other fullsize GM cars, the Custom Cruiser had a major redesign for 1977. This time, the wagon shared underpinnings with the B-body Delta 88. Though the wheelbase was shortened to 116″, and the physical size of the body was tightened up, the interior room was still close to the earlier generation. The weight dropped about 1000 lbs. with the redesign, just in time for the second oil crisis. Nowhere to be found was the clam-shell tailgate, which would have added extra weight of motors and guide tracks. The 350 4bbl V8 was standard though the 1979 model year. A 403 4bbl V8 was optional through the 1979 model year. The 'legendary' 350 diesel was offered starting in 1978.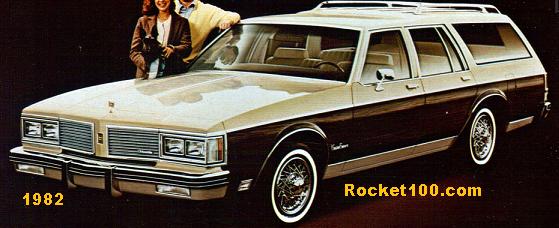 Starting in 1980, the 307 4bbl V8 was now standard, plus the car received a refreshed appearance. The 350 4bbl stuck around for this one year only as an option. The 350 diesel V8 was still offered up until 1985. The generation lasted though the 1990 model year with slight grille changes.

The 'bathtub' generation was introduced for the 1991 model year. The look of the B-body GM cars was controversial at the time, but eventually caught on. The Oldsmobile model was the sole 'wagon-only' version. Powering it at first was a 305 TBI Chevrolet V8. For 1992, the 305 was still the base engine, but a 350 TBI Chevrolet V8 was now an option. This was also the last model year for the Custom Cruiser, as sales dropped dramatically between the two model years. If only the Custom Cruiser was allowed to remain a few more years, like Chevy's Caprice and Buick's Roadmaster, the Chevy LT1 engine undoubtedly would have been offered. Too bad.