Holiday 88
At Oldsmobile, "Holiday" describes a hardtop (postless) body style. Because of this, the name of this car was loosely thrown around for 20+years, but 1978 was the first 'official' year using Holiday 88 as a model name. It was the sporty version of the 88 series at the time.
Added to a basic 2-door 88 Royale were Strato-Bucket seats, t-handle floor shifter with console, custom hub caps, sport steering wheel, and twin sport mirrors. Despite the word 'Holiday' in the name, this was not a hardtop car, but a post car.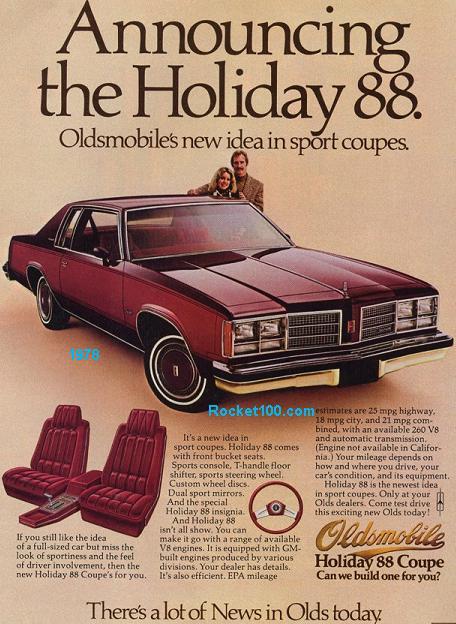 All powertrains of the 88 line were offered on the Holiday version and the list is quite lengthy. Here we go…
Standard was 231 CID 2bbl Buick V6. Optional were a 260 CID 2bbl V8, 350 CID 4bbl V8, or a 403 CID 4bbl V8. Another addition was a 350 CID 4bbl Chevrolet V8, though this was frowned up by most Olds buyers. And yes, the 350 Diesel V8 was offered too.
For 1979, grille and trim appearances were mildly tweaked. It was the last year of the relative high performing 403 V8.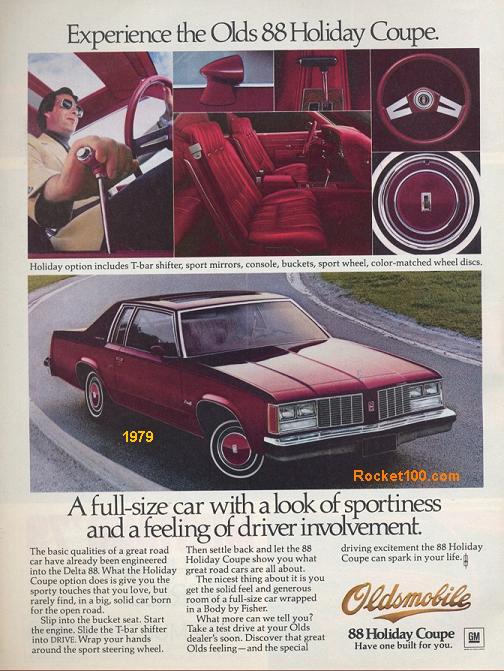 In 1980, the car was lightened up through the use of additional plastics and aluminum throughout, though it was only lighter by about a hundred lbs. Let's not forget about the mild restyling. A 307 CID 4bbl V8 was added to the engine choices this year. This was the last model year for Holiday 88 availability.